Protect your Business, Staff & Employees from Cyber Criminals with a
Secure
Password Management
Solution
Password Security Management from Keeper Security
Its always been driven home that we should have unique, secure, long passwords. New standards and advice is coming out at a fast rate.
Passwords need to be unique and complex, for all on and offline services that we use. From our Facebook logins, through to the applications and services we use for the bank, passwords can seem endless and they all have different complexity requirements.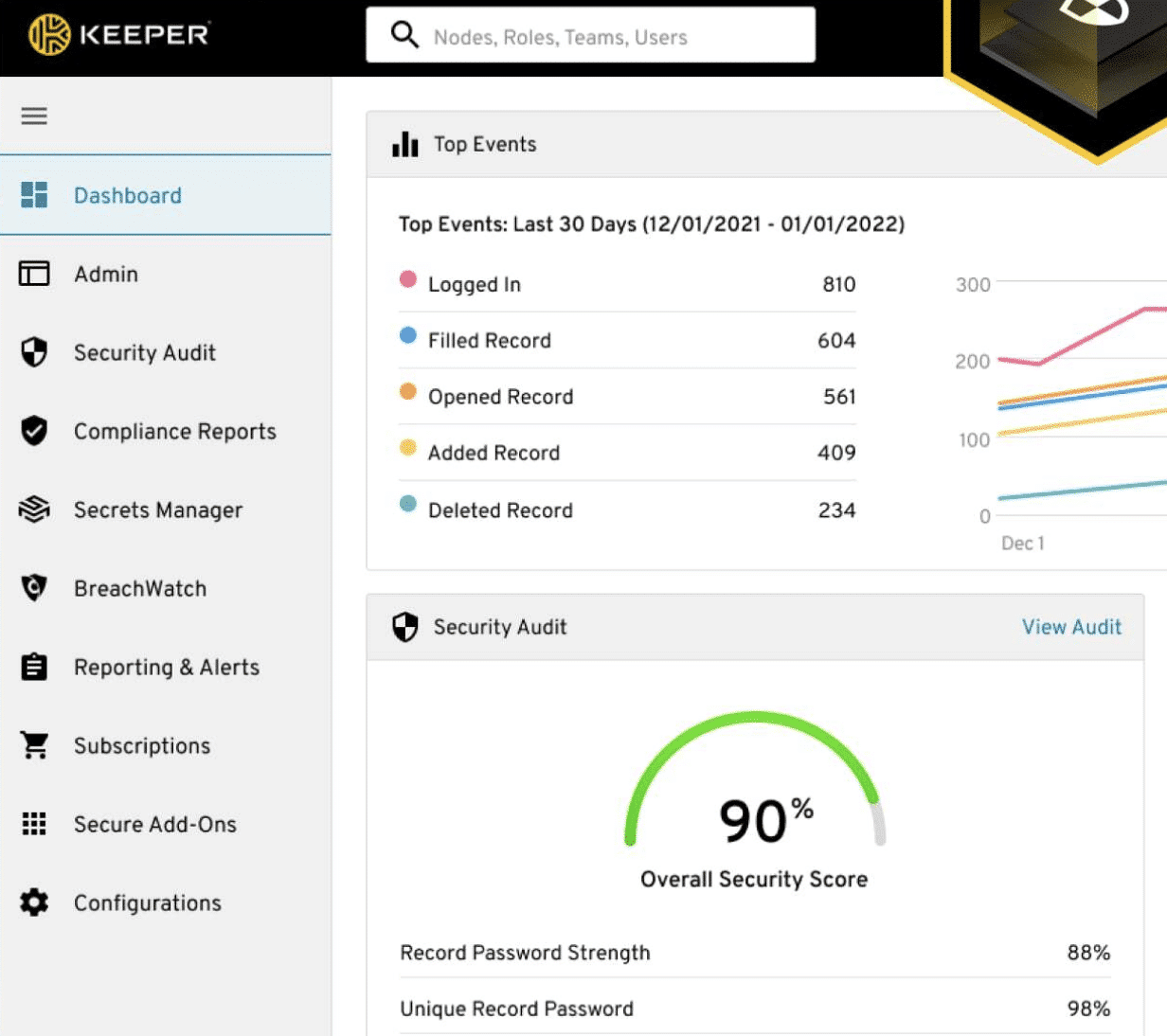 Password Hygiene
is a term that we use to look at the health of your Password estate, from yourself through to your staff and employees, you need to be sure that you are as secure as you can be. Its convenient to only have a couple of passwords, and share them between a few applications. When you do this you are leaving yourself and the business, and its data, vulnerable and open to attack. In most cases, this is can be the sole item that is keeping the hacker at bay.
Password Security Management from Keeper Security
By employing a password manager in the business, it helps to solve both the security and productivity issues that we all have. It helps users to generate these long and complex passwords without having to remembr any of them.
All of the passwords are stored in a secure vault, and can be automatically filled when you land on the page its required for with a single click of a button. All of your users have their own vault.
If and when an employee leaves the business, the manager can be empowered to take immediate control of a users password vault and either transfer it to a new user or simply block access to those passwords stored.
WORLD CLASS FEATURES THAT PROTECT YOUR BUSINESS
Your business is vulnerable to cyberattacks.
Ransomware attacks can bankrupt a small business, even if the data is recovered.
Your Question Is Not in FAQs? Send Us a Message!
Michael Bennett
2023-10-03
A great service and a lovely team of people. If you are looking for security solutions for your tech, look no further than NETSEC.
Nicholas Sheehan
2023-04-19
Great company for IT support. They support our business. I had a problem with email. It was resolved in under 2 minutes. The agent had to log into multiple systems in order to do that which is a great testament to how well they work.
Hosting & email with N&S. The quick and swift response from Neil. The issue being resolved literally within the day. Thank you.
Anna Nguyen Nguyen
2022-09-29
Neil and his team at Network and Security have been a huge help hosting my clients websites. The hosting is fast and secure and the support I have had through them is excellent – always ready at the end of the phone if I've needed any help. Network and Security are my host of choice and I trust that the websites that I put up are in safe hands.
Excellent service. Fast and responsive. Always on hand to help with our issues. Communication is excellent and always kept updated on progress. Highly recommended .
Huge thank you to Network & Security, we have been so impressed with the support that the team has provided since we started working with you. The transfer to working with you was extremely efficient and professional and we are thrilled to know that we are operating with a robust and secure IT infrastructure; especially as we grow and add new remote staff members. Specifically, I would like to say a big thank you for your support in resolving a recent client related issue which underlines how in tune you are with our business values.
Pantelis Hapeshis
2021-06-16
Network & Security are a fantastic company for your IT solutions. I have been with them for almost 2 years now. Great service and great bunch of people. Highly recommended.
Great firm to do business with.... proffessional, efficient, swift and they always match urgency with mine. Also they know their stuff!!!
Charlotte Story
2021-06-15
Highly recommend Neil and his team at Network and security. Responsive, friendly and extremely knowledgeable in all aspects of IT and computer security. Would recommend to all friends and family 5 star service.